Thursday, October 27, 2022 / by Your Home Sold Guaranteed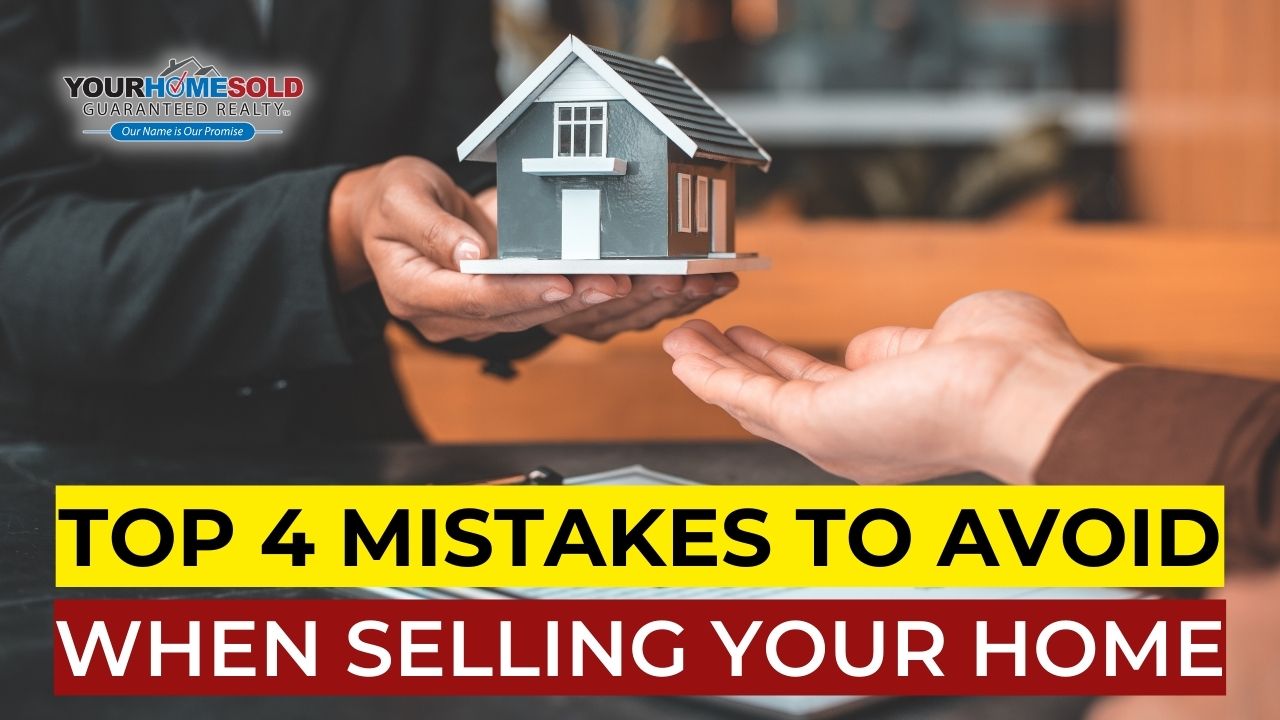 You'll learn the top four errors to avoid while marketing your house. Your home is probably your largest financial asset, so you'll want to make sure you sell it successfully when the time comes. The top four errors to avoid are shown below. 1) Choosing the real estate agent that guarantees you the greatest sale price for your house, even if the price looks inflated. 2) Selecting the agent whose commission rate is lower and who guarantees to save you money. 3) picking the friendliest agent 4) picking an agent that works alone because you believe they will work harder and provide you more individualized attention.


The most frequent results of these mistakes are 1) The inflated list price you are quoted in order to get your listing results in fewer buyers coming to view your home. This is because today's savvy buyers know they can get a comparable properly priced house for less money. In this scenario, you will most likely end up having to endure a series of price reductions, which results in your home. Finally selling for below its true market value.


2) A lower commission does not guarantee you will net more money on your home sale. According to real estate consultant, Bernice Ross, there is a big lie in real estate. It's the lie that reducing the commission always results in more money for the seller. Nothing could be further from the truth. Virtually all sellers want to obtain the highest price possible for their property. No matter what you are selling maximum exposure to the marketplace is a critical factor in achieving the highest price possible. Companies who cut services in exchange for taking a lower commission often cost clients much more than the extra 1% - 3% they save in commission. Depending on sale price of your home that cost can be tens of thousands of dollars.


3) Your agent may be nice, but this doesn't necessarily qualify them to do the best job of selling your home. Your agent's personality will mean very little to you if you ultimately discover that they don't have the expertise to market your home properly and it sits on the market and either doesn't sell or sells for lower than market value.


4) Your agent ends up neglecting some important steps because they are so over busy trying to do everything all by themselves. You end up with an inferior result. When it comes time to selling your home, who will you choose? An agent who sells a few homes a year or an agent with a team that sells several hundred. Not all real estate agents are created equal. It does matter who you choose to sell your home.


We use a professional team approach, complete marketing systems and guaranteed customer service. We are not the type of real estate agents who just stick a sign on your lawn, put your house on the MLS, the Multiple Listing Service, and pray that it will sell. We actually spend thousands of marketing dollars advertising your home directly to buyers to make it easy for them to get information on your home. The more buyers we bring to your home, the better for your bottom line. More buyers create more demand. And with the auction effect we generate, many times we get multiple offers.


More offers can mean more money in less time for you. And because of the large volume of listings we have at any one-time, top producing agents in the marketplace, particularly those who are predominantly buyer's agents and represent buyers, pay close attention to our listings. As part of our Exclusive City-wide Buyers Network, these real estate agents know that when they sell homes listed and represented by our team, every 'i' has been dotted and every 't' crossed. They know their buyer will have a smooth failsafe experience. We maintain a close working relationship with many local agents and investors. They welcome our email and text alerts of the newest homes our team has available. When we pull the trigger on your listing, when everything is a 100% market ready, this entire exclusive network of agents representing at any given moment hundreds of buyers searching for their next home, will receive information on your property.


We spend a substantial amount of money, time and energy in maintaining our large list of buyers. It's as if we've been looking for a buyer for your home before we even listed for sale. This is just one example of many systems that can sell your home fast and for more money. Get started today and get your home sold right, the first time and for more money than the aver age real estate agent can sell your home. Call now at the telephone number provided. If you are not quite ready to talk to us, get a free special report that details this exclusive program.
This information report is completely free and comes with no obligation to buy or sale with me. If you or anyone you know is considering making a move simply contact me or pass on my info and I will be happy to share this amazing report.


Your Home Sold at Your Price and In Your Time Frame - GUARANTEED!*
Call, Text or Message Me Direct! And Start Packing! 770-670-0535


Remember, your referrals change lives! We donate a portion of our income on every home sale to help those who need help the most! When you buy or sell with Your Home Sold Guaranteed Realty, Great Worthy Causes Benefit! If you or anyone you know is considering making move in the next little while, give me a call or pass on my contact info. 770-670-0535


Go Serve Big!!!
*Some conditions apply. Contact me for details


To know more about this blog click the link below: